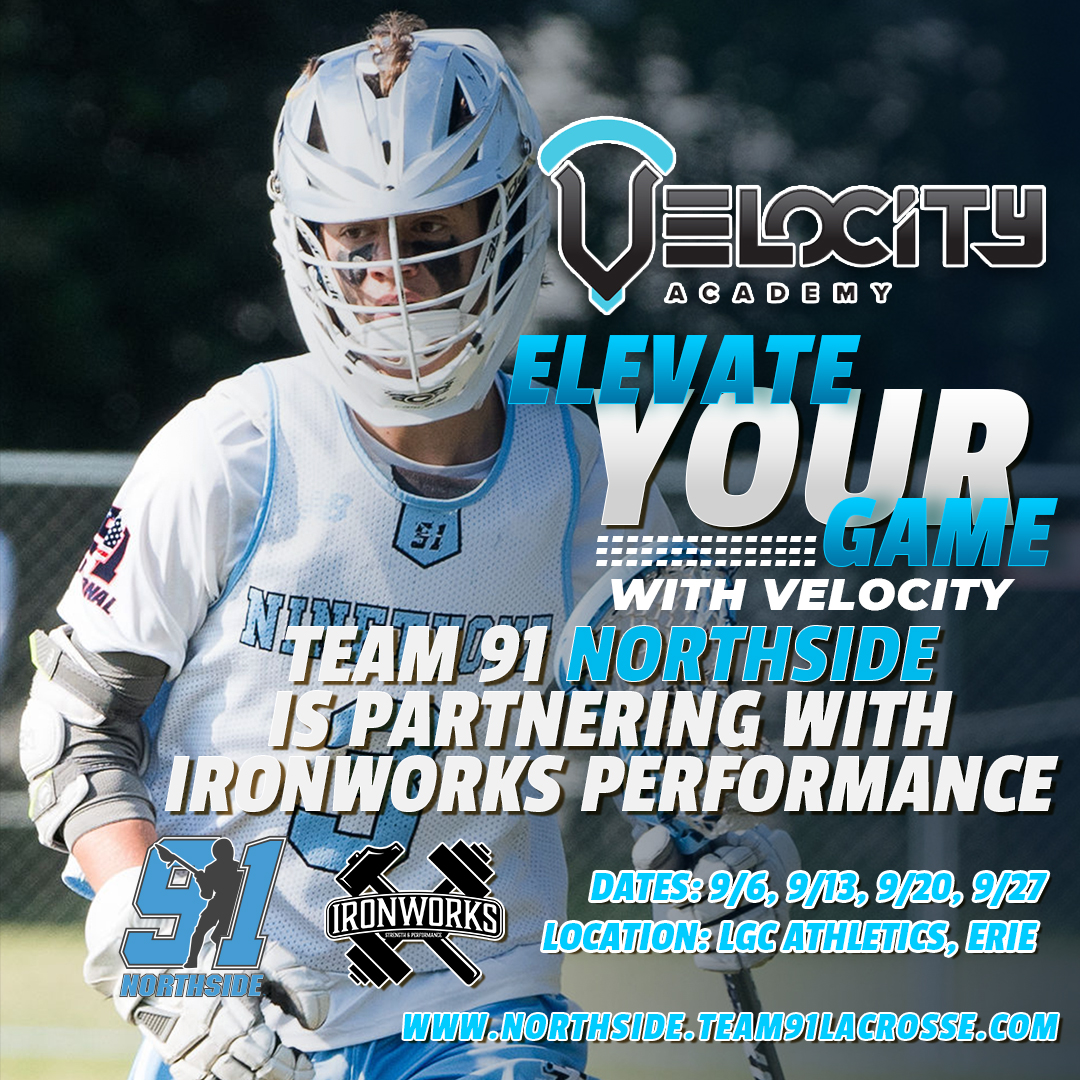 Upgrade your game with VELOCITY
Team 91 Northside is partnering with Ironworks Performance
Velocity
Noun
Rapidity or speed of motion; swiftness.

The rate of speed of action or occurrence.
Our definition: Speed with purpose
Velocity Academy is back! This is one of our most intensive and advanced training opportunities. We believe in developing the whole athlete and this program will help players rapidly improve their skill, mechanics, strength, speed, endurance, explosiveness, and more. This one of a kind program will unlock every athlete's full potential, upgrade strengths, and eliminate deficiencies and weaknesses. Whatever your goals are, we will help you get there. In partnering with Ironworks Performance, we will be able to combine advanced skills with a physics based speed and strength regimen that will include sport and athlete specific training methodologies. 
***For Advanced players only 
Dates: 9/6, 9/13, 9/20, 9/27
Times by Age:
2032-2027: 5:30pm-7:30pm
Northside Select Price: $95
Outside Registrations: $125
Location: LGC Athletics: 5466 Co Rd 3, Erie, CO 80516
Velocity academy will include the following:
Building the lacrosse player:
Advanced position training

Skill & Iq Development

Pro player comparisons and video analysis/feedback

Individual development plan and personalized workouts
Building the Athlete:
Physics Based Program For Developing Elite Level Strength, Power, Speed, And Explosiveness

General Physical Prep, Special Strengths; Max Strength Development, Speed, agility,  Strength Development, Age Specific Focus

Mobility Training; Injury Resistance & Prevention Focus 

Nutrition Guidance & Recovery 
Building the person:
Breathwork, Mindfulness, Focus, and awareness

Habit formation and utilization 

Resilience mechanisms and mental toughness training

Goal setting and action plans

Recruiting planning (hs)
Great players are built, not born!
We will have numerous benchmark workouts, exercises, and handouts for the players to measure their improvement throughout the course of the program. 
Description:
-4, 2 hour in person sessions (one hour of lacrosse, one hour speed & strength)
- Leadership sessions  going over goals, action plan, habit formation, and recruiting advice (or preparing them for spring).
- 3 month Speed/Strength program and positional training program (to be completed individually
Wednesdays 
*WE CAN'T WAIT TO SHARE NEW DRILLS AND DEVELOPMENT SYSTEMS WITH YOU*
*We will be offering sessions for offensive, defensive players, and goalies. If there is enough interest for faceoff specialists, we will add in sessions for them as well.