Stopper School: Spring Tune Up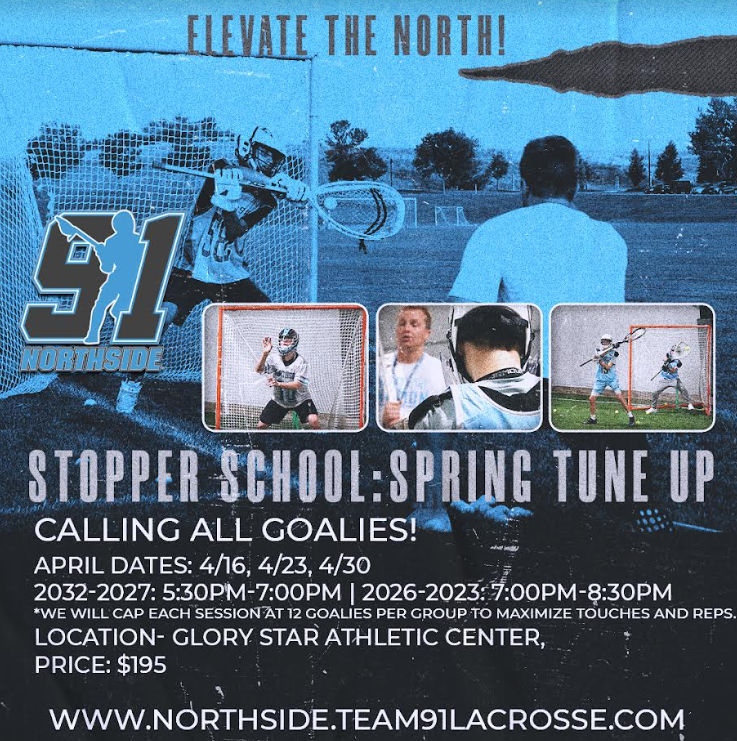 Team 91 Northside: Stopper School
Looking for fine tuning during your spring season? We are back with a series of goalie programming for youth and high school boys and girls. Stopper School is designed to bring out the best in each goalie, and help them prepare for the spring/summer season. We believe that each goalie has a unique style, and want to allow them to use their athleticism and creativity to dominate in the cage. Goalies are sometimes overlooked in many practice settings, and individualized training is essential to each goalie's development. Stopper school encompasses all elements to make a complete goalie.
Stopper School Director: Joe Whitmore - Varsity Goalie Coach at Mountain Range High School, Former Colorado State Goalie Coach; Smoky Hill high school 2x captain 2x all conference 1x all state; Most saves in Colorado senior year. Played at Nazareth College and Colorado State University. 1x all-conference honors
Clinic overview: 3, 1.5 hour sessions that will include the following skills and concepts:
*Footwork
*Stepping, smothering, and body control
*Hand speed and coordination
*Angles and positioning
*Communication
*Multiple pre-practice, game, and wall ball routines
*Goal setting
April Dates: 4/16, 4/23, 4/30
2032-2027: 5:30pm-7:00pm
2026-2023: 7:00pm-8:30pm
*We will cap each session at 12 goalies per group to maximize touches and reps.
Location- Glory Star Athletic Center, 5466 County Rd 3 Erie, CO 80516
Price: $195