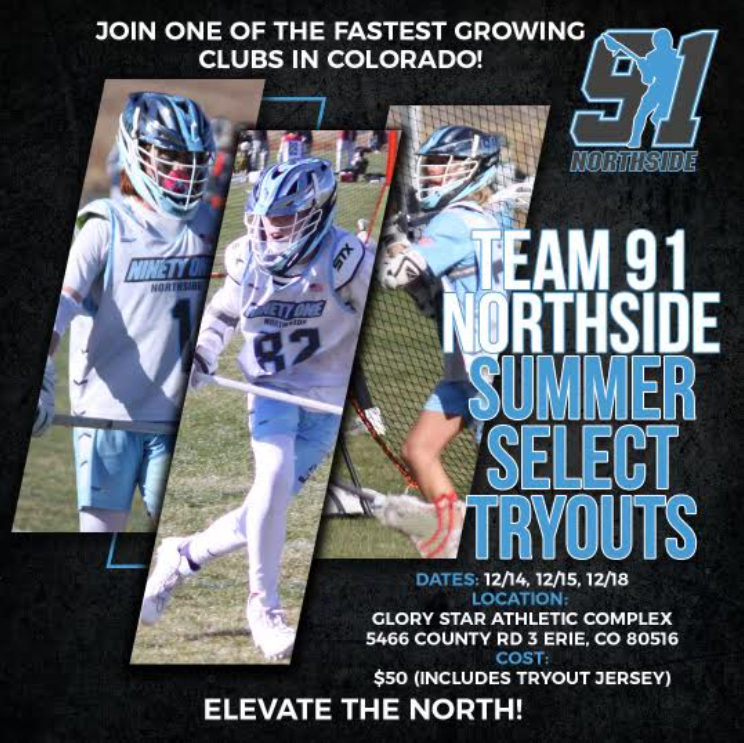 We are pleased to announce our Summer Select tryouts for 2032-2024 grad years.
Tryout Dates: 12/14, 12/15, 12/18
Location: Glory Star Athletic Complex , 5466 County rd 3 Erie, CO 80516
Cost: $50 (includes tryout jersey)
12/14 Times by Grad Year
2032-2030: 5:30pm-7:30pm
2029-2028: 7:30-9:30pm
12/15 Times by Grad Year
2027-2026: 5:30pm-7:30pm
2025-2024: 7:30pm-9:30pm
12/18 Times By Grad Year
2032-2030: 9:00am-10:30am
2029-2028: 11:00am-12:30pm
2027-2026: 1:00pm-2:30pm
2025-2024: 3:00-4:30pm
*Select Teams will compete in 3-4 tournaments spanning from June-mid July*
Why Team 91?

91 National: 91 National is the country's premier select destination. 91 National will have players from all 91 regions including: Long Island, Maryland, Tri-State, Colorado, Northside , Charlotte, Carolina, Texas, Georgia, & New Jersey. National teams compete in some of the top tournaments nationwide! Team 91 is expanding their national team offering to include multiple teams per age group (2032-2023).
National Lacrosse Federation: As part of Team 91, we get access to NLF events year round. The NLF hosts the most competitive events the country has to offer – https://nationallacrossefederation.com
91 Western Elite: 91 Western Elite is a new regional select option for our top players. Western Elite will include players from Team 91 Northside, Team 91 Colorado, and other Team 91 organizations from surrounding regions. Combining between western regions helps us build teams that compete on the national level, and guarantee us more representation than the National program does. Western Elite will be playing in the NLF Championships in July! Play with the best in the West! We will be offering Western Elite for players 2030-2026 for the 22-23 season.
*All National, Western Elite, and These teams are exclusive to Team 91 Northside Players
http://northside.leagueapps.com/events/3529908-northside-summer-select-tryouts-2023