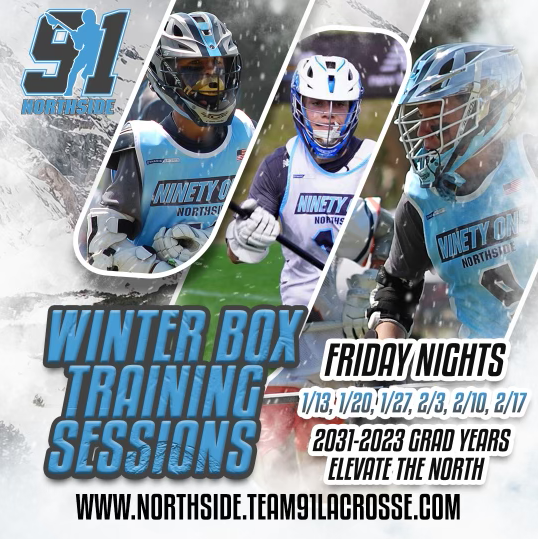 Team 91 Northside Winter Box Training Sessions
Team 91 Northside Winter box lacrosse training sessions are back! Box is proven to be one of the best ways for players to improve their lacrosse skills and IQ. Each clinic will include 60 minutes of advanced training and 30 minutes of scrimmaging/application. These sessions will help players prepare for their spring/summer seasons, learn 91 Northside systems/terminology, and continue our vision to offer box lacrosse teams and training year round. We are committed to providing some of the top training in the state, and box is an integral part of this programming.
Session Dates:
1/13, 1/20, 1/27, 2/3, 2/10, 2/17
Times:
2031-2028: 6:15pm-7:45pm
2027-2023: 7:45pm-9:15pm
Location: 795 S Sherman St #8, Longmont, CO 80501
Director & Coaches: Sessions will be led by Team 91 Northside Ethan LaHoda, 91 Northside box coaches, and special guest coaches TBA!
Session Cost (6 trainings): $325
Spots are limited! We will cap each session at 40 players per time slot. These spots will fill up fast. Spots for goalies are competitive and limited and will be capped off at 4 per session. More info on goalie registration page.